---
The Background of Shostakovich
---
--- The Life of Shostakovich ---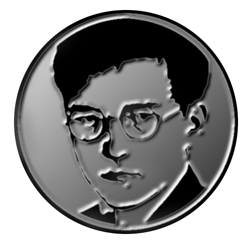 The composer Dmitri Shostakovich was born in 1906 in Petrograd (presently St. Petersburg) and died in 1975.
He lived in the Soviet Union of Stalin's era, and struggling with fears of "the Great Purge", he composed fifteen symphonies and numerous of other works in concertos, chamber music, operas among others. In many of his works he treated implicit themes of "a fear of death" and "an agony of controlled people".
In 1936 his opera, Lady Macbeth of the Mtsensk District, was censured in Pravda (a newspaper of the Soviet Communist Party) and criticized as "anti-democratic", then he composed the Fifth Symphony along a policy of the socialist realism and rehabilitated himself. In 1948 he was attacked in "Zhdanovshchna" (a campaign of ideological control), he then composed the cantata Song of the Forest (a toadyish work which loaded Stalin's forestation) and righted himself again.
Due to these circumstances, Shostakovich was believed to have been an obedient communist, until Testimony: The Memoirs of Dmitri Shostakovich (edited by a musicologist Solomon Volkov) was published in 1979. In this book is described how he was agonizing and disguising himself in order to continue composing in the Soviet Union of Stalin's era. He was officially pro-Sovietism, but in actuality he implicitly kept representing his protest as a dissident.
In Testimony Shostakovich told about conductor Yevgeny Mravinsky as follows:
I discovered to my astonishment that the man who considers himself its greatest interpreter does not understand my music. He says that I wanted to write exultant finales for my Fifth and Seventh Symphonies but I couldn't manage it. It never occured to this man that I never thought about any exultant finales, for what exultation could there be? I think it is clear to everyone what happens in the Fifth. The rejoicing is forced, created under threat (emphasis added), as in Boris Godunov. It's as if someone were beating you with a stick and saying, "Your business is rejoicing, your business is rejoicing," and you rise, shaky and go marching off, muttering, "Our business is rejoicing, our business is rejoicing." (p.183)
Testimony has dramatically changed Shostakovich's image, on the other hand, it has been suspected, since the publication, of beeing a faked "fraud", and this question is still under debate. His son, Maxim Shostakovich (pianist and conductor, defected to the U.S.) speaks of Testimony in an interview as follows:
...it's a book about my father, not by him ..... It's a collection of different things - real documentary fact and rumour. But what's more important is that when we take this book in our hands we can imagine what this composer's life was like in this particular political situation - how difficult, how awful it was under the Soviet regime. (Gramophone, May 1991)
---
--- What is "DSCH" ? ---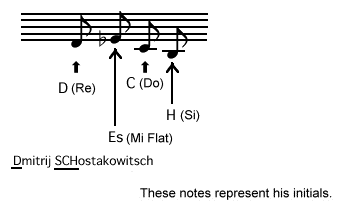 This motif appears in his Tenth Symphony and other works.
---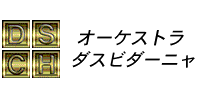 Back to Top Page
---